Are you ready to make an impact?
Join us in changing the world
We are Ecologi, a social enterprise and market leader in the climate action space.
We provide innovative and progressive tools for people to act on climate: a subscription service to reverse climate change; a marketplace for climate solutions; and most recently our real-time carbon footprinting for business.
Our mission is to avoid 50% of global emissions by 2040. The question is, how are we going to do this? Firstly, by protecting nature and supporting the best in carbon offset programmes (like protecting the Amazon Rainforest). And secondly, planting trees in the places and habitats that need them.
With our 25,000+ strong subscriber base, we're now funding 1 million trees every few weeks. Impressive, but our goal is to fund billions of trees a month.
Do you think you can help us achieve this?
Our culture
We're easy going and we take great pride in our work. From brand and marketing to product development and climate impact, we're all striving to move the needle on the climate emergency. We celebrate our milestones and we have get-togethers every quarter (restrictions permitting). Our culture is about pulling together, helping one another, about putting forward good ideas and feeling part of something bigger than yourself.
Our values
We stand for hope, we instil trust and we strive for excellence.
Hope

People come to us with the hope of changing things for the better. Through the work that we do, we aim to show people around the world that not only is a better future possible, but that they can be help shape it.

Trust

Trust must be in the fabric of every Ecologi communication. We build trust at every stage and interaction. Our ethos is impact over profit and we have to work hard to communicate this. To help gain trust we are fully transparent, sharing our inner workings with the world.

Excellence

Whether it's the impact of our work on the world's climate, the features of our product or the way we communicate with customers, we always strive for excellence. High quality is our top priority, in everything we do.
The team
Ecologi was set up in 2019 by 3 friends from Bristol, and in only two years our subscription service has planted over 15 million trees. Our team is growing (20+ people) and although a remote first organisation, we like to see each other regularly for meet ups. We like to think of ourselves as people who go for picnics, walks and talks and forest parties!

Good times and looking after the planet. What's not to love?
Work perks
Flexible working

9:30am to 3:30pm are our core working hours, the rest is flexible - we work around your productivity!

Wellbeing

Optional daily mindfulness sessions and Friday get together sessions.

Annual leave

Taking a break is great for the soul and your ability to be brilliant at work. That's why you have an extra week's holiday. You're entitled to 25 days holiday plus bank holidays.

Pension with intentions

We'll enrol you into Nest pensions, complete with Ethical Fund options for building your retirement pot.

Tech equipment

We'll provide your laptop for you so you can dive straight in when you start!

Enhanced parental leave

We support you throughout your journey!

Development

Ecologi actively encourages employees to get involved in courses, seminars and conferences.
Diversity & equality
We are an equal opportunities employer. We are looking for shining stars and diamonds in the rough, and we're committed to creating a diverse environment. All qualified applicants will be considered regardless of race, colour, religion, gender, gender identity or expression, sexual orientation, genetics, national origin, disability, age or any other grounds. If there are any adjustments you need to help you bring your best self to an interview with us please let us know.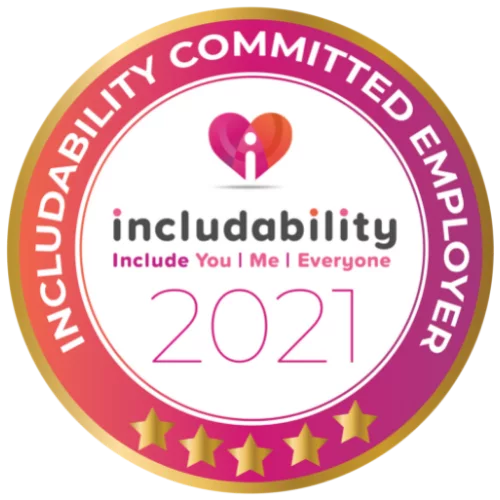 In reflection of this commitment, we're also proudly certified by Includability.

Our accreditation is formal recognition of our commitment to being an authentically inclusive employer.